Hybrid Team Building Game Shows

You are planning an in-person company meeting, and want to incorporate a fun activity.  No worries – we've got you covered!  Yes, we can broadcast a game show from our studio to your conference or meeting, with all of the bells and whistles of a classic TV game show broadcast.  Participants watch the game show on your video screen, and answer trivia questions with their cell phones.  It's like watching Who Wants To Be a Millionaire on TV, where all participants answer the hosts questions as the show is being presented.   The host engages with the audience during the show to energize the show for maximum fun.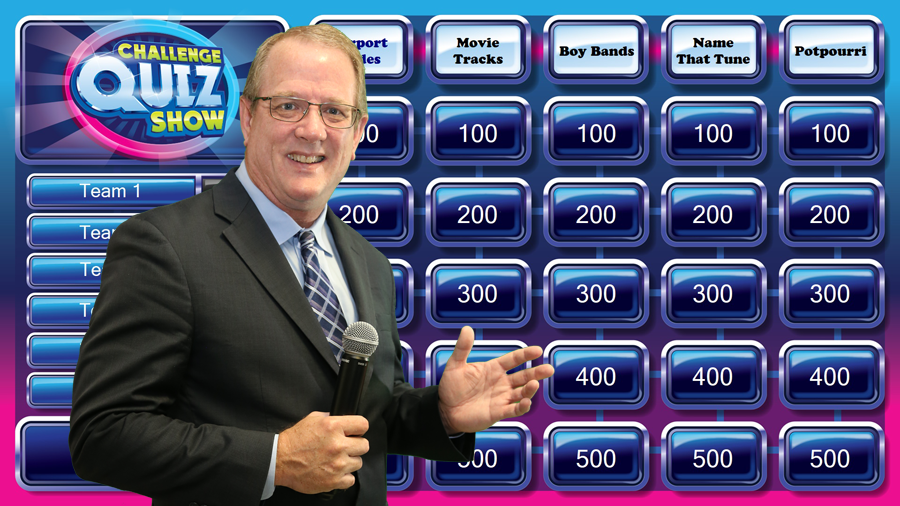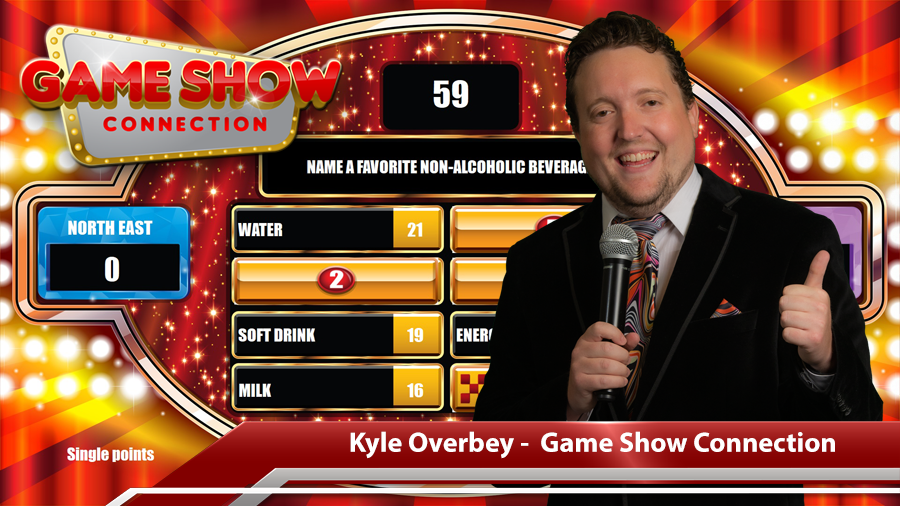 Challenge Quiz Show
"I'll take Music for 200"! This is our version of the classic TV game show where players choose the questions from the game board. This game allows individual or teams to compete, where players use our cell phone buzzer to ring in. This game allows up to ten teams to  compete at one time, making it one of our most popular virtual game shows.

Survey Says
Two teams face off against each other in a classic TV style game show where survey style questions are presented.  Multiple teams can be rotated in a tournament style rotation for maximum fun!

Team Face Off
Two to four Players/Teams use our innovative cell phone buzzer app to answer trivia questions.  This game uses standard host-read trivia questions, music clips (Name That Tune) and photo trivia.  Individual or team play, this is one of our most popular game formats!

Smart Phone Trivia
Smart Phone Trivia is a fun, interactive way to test your audience's knowledge by having them use their mobile device to play along!  This game typically uses multiple choice trivia questions. Your crowd competes against each other by earning points based on answering questions correctly in the least amount of time. 

Rapid Response
Speed trivia game that combines all the fun of celebrities and pop culture.  How fast can you identify photos of celebrities?  How fast can you Name That Tune?  This is an exciting "beat-the-clock" game that can be played by individuals or teams.  This is a perfect supplemental game to any of our other virtual game shows.

Beat The Banker
Our version of Deal or No Deal, Beat the Banker is an exciting finale for clients who have the budget to offer $250 or more in a cash prize. This game uses virtual suitcases that contain as little as $1, and as high as your budget allows.  The banter between the contestant and his/her friends is hilarious.  This game keeps everyone on the edge of their seat.